"I'm not perfect." - An honest, tell all, deep dive with Imbibe foundress, Felicity Evans. Talking business, life, challenges, stress management and juggling two of the most important things in her life - her work, and her motherhood.

What is one of your biggest challenges?
My biggest challenge is figuring out how to navigate my business, my daughters, and my family who all equally need me as much as the other. It's this feeling of 'immediacy' in all things that underpins me, when all entities need me RIGHT NOW, and some days are harder than others.
My husband also needs me, and I try to remember that I need me too. I'm an introvert, so I crave solitude, which makes it a challenge trying to be at ease with the demands of growing a family and simultaneously growing a business that I am so passionate about.
Naturally, my daughters are my top priority and preference, but that doesn't stop the growing to-do lists in my work. And it's in these moments, when push comes to shove, and I miss an important milestone for one of my daughters that I really feel it.
"And then I feel the challenge of chasing my dreams, with missing of important milestones and I start to feel a little anxious about both about the worry of missing out on both."
Not to be misunderstood, I feel incredibly blessed to have both. I realise it is a position of privilege, but I am still navigating how to "balance" both. And that is the great challenge, finding what balance looks like.

"And then I just chuck it all in and embrace the fact that there is no perfect, there is no balance. And in those moments of embracing the challenge, there is relief."




How does stress manifest for you?
In a sort of manic-ness, where I literally feel like I'm being pulled in various directions and I don't know where to start first.
It manifests in a feeling of doing a million small things and achieving nothing.
"My mind goes to all the things I'm not doing, rather than focusing on what I AM doing, and what I AM accomplishing."
I make sure to not let this feeling last long, so this is when I stop, reassess, get my whole body into water and stay there until I feel like the heaviest part of the storm has moved on.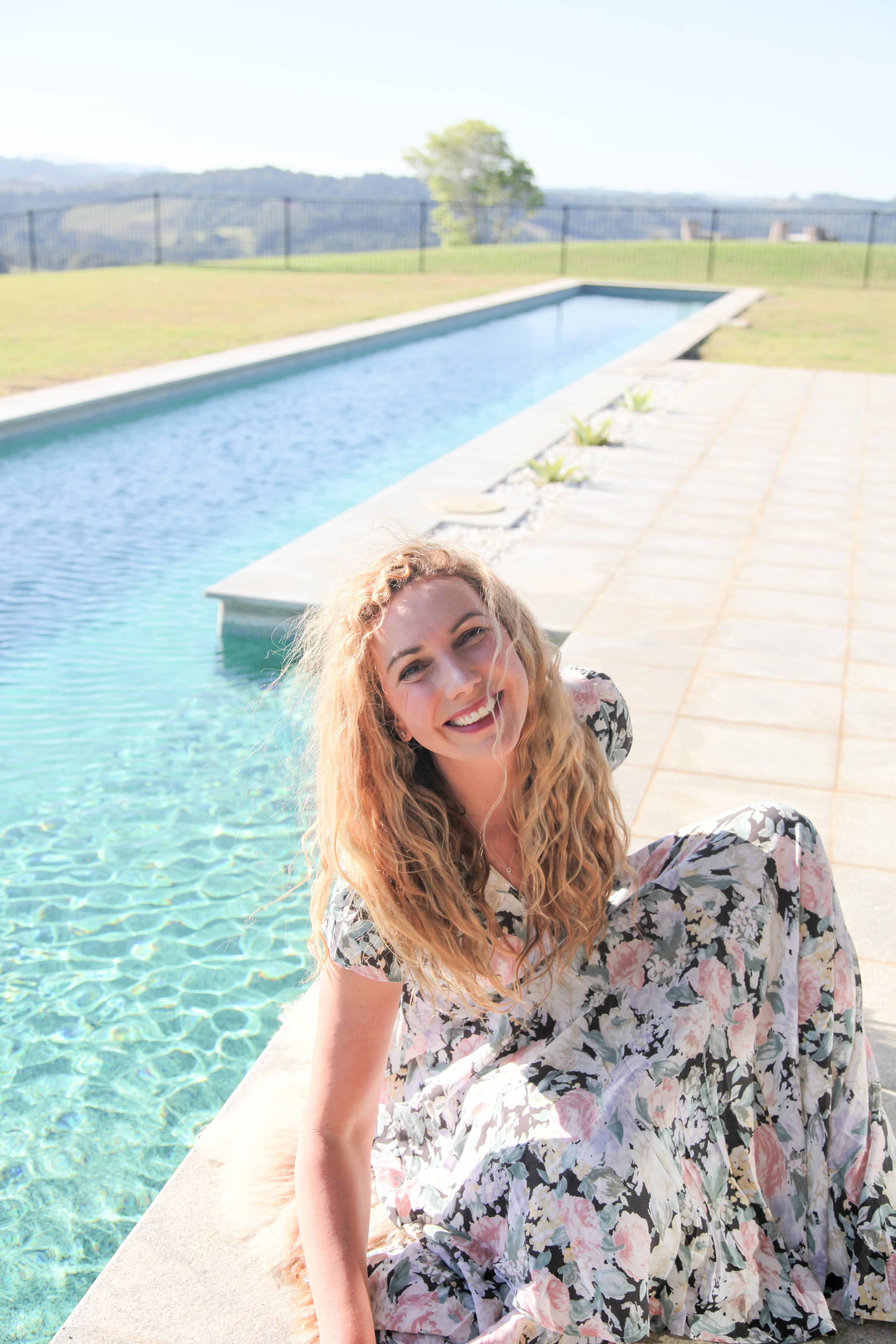 What is your go-to for stress management?
Get into the water.



Do a yoga class.
Re-connect with my daughters and husband.
Turn my phone off.
Eat grounding food. Like food that has roots: sweet potato, turmeric, ginger, potato.
Breathe deeply.


Do you struggle with your autoimmune condition?
Yes, I do. I actually ate something last night that didn't agree with me and I spent the day feeling inflamed, sore and bloated.
"It's not as bad as it used to be, but certainly, not perfect.My auto-immune condition is coeliac, and I manage it well with the right food choices.In fact, since being diagnosed, and after years and years of suffering, now I can say I have actually never felt better. "




How do you draw a line between being a mum and managing your business?
I don't! It's a constant struggle.
I don't have it right; I don't have the answers.
I'm like most other working Mums - We're all just doing the best we can.
There are some things that I do try to do that help me to manage both motherhood and my business:
1. I turn my phone off on the weekend when possible
2. Turning my phone to silent when I get home from the office so that I don't get distracted
3. I have a seperate alarm from my phone - that has meant that there is less chance to get distracted, and it doesn't have to always be with me.
4. Knowing that my children won't be this little forever helps me re-prioritise
5. When I'm at work, I truly only focus on that so that I give it my all with the time I have.
I'm just like everyone else, doing my best to manage the increasing demands and feel grateful to have my health to keep me strong.

Watch our video below with Felicity in her element, playing in the kitchen with her products.
This blog is based purely on the author's personal experience. It is not intended to be a substitute for medical advice or treatment. The author is neither a medical nor health professional and cannot guarantee that the information in this blog post is accurate, reliable or complete. If you use this information, you do so at your own risk and should consult a qualified medical or health practitioner before relying on any information contained in this blog.