A mover, a maker and first and foremost, a mama - Jessica Hoskins of Sage and Folkis doing it all with grace (and a bit of a daily juggle!). A clinical nutritionist and herbalistsince 2011, Jessica provides her services through her thriving online practice , as wellas through consultations at the beautiful Parkes Ave Dispensary in Byron Bay.
Dedicated to providing a heart-centred, nurturing and non-judgmental space to allowevery client to realise their true health potential, Jessica treats any health concern thatshe can. Since becoming a mother however, she's developed a special interest inwomen and children's health - particularly the effects of nutrition and lifestyle choiceson people at all stages of life.

With a true desire to not just make, but to make better with her choices, her practicesand her parenting, Jessica is an Imbibe Woman through and through.

I'm Jessica Hoskins, a Mama, clinical nutritionist and herbalist.
I run an online practice, and I also consult from Parkes Ave Dispensary in beautiful Byron Bay.My clinical focus is on women's health (especially prenatal, postpartum and the years after)and children's health. Although I live in Byron, life with two kids and a business can be verybusy. I've had my share of burnout so I'm drawn to supporting Mums and helping themnourish, replenish and thrive even in the throes of motherhood. I've expanded this into onlineprograms and e-guides that help women look after their own health and wellbeing while alsokeeping their families healthy.

2. What is one of the most defining moments in your life and how did it shape you?
The births of my children are at the top of that list! Becoming a mother has completely changedthe way I live my life and has also forged the direction of my work as a practitioner. It presentsone lesson after another and has taught me to be in the moment more often. It has also taughtme to honour my own wellbeing and prioritise it. I certainly have a profound respect and clinicalinterest for the female mind and body.
3. What makes you feel most beautiful?
A clean, freshly moisturised, sun kissed face after a day of surfing.
4. What is something you're curious about right now?
How our future and our children's future will look. Although I try to stay in the present, I alsobelieve that we have to take the future of the earth seriously and make conscious stepstowards improving it.
5. When are you your most confident and happy self?
In the kitchen, cooking food for my loved ones and when I'm in the company of genuine, salt ofthe earth people.
6. What advice would you give your 18 year old self?
Change is inevitable but enjoy the ride!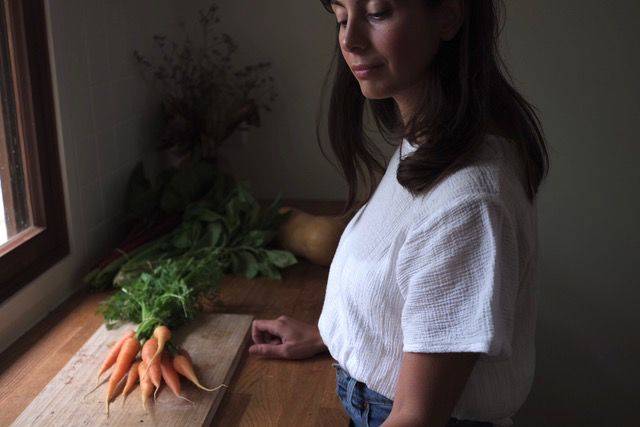 7. What is your best tip for making the world a more beautiful place?
Take every opportunity to be kind.
8. What's the best book you've read lately?
Rising Strong by Brene Brown is full of fantastic advice and insightfulness.
9. How do you balance work, health and wellness with the demands of being a modernwoman?
In reality, I have never been able to achieve balance. Trying to achieve the perfect balance isjust setting myself up for failure and guilt. I have accepted there is always something a little offbalance - and that is ok! For me, it is more about being able to reassess, prioritise, and ride theebbs and flows as needed.
In saying that, being prepared is the best way to avoid getting overwhelmed - I put everythingin my calendar, this really helps me assess my week or day ahead. I am also an advocate ofmeal prep (I do two hours every Sunday) and flexible meal planning. This really takes thepressure off weeknights, saves so much time and means that we are eating plenty of nutritiousfood.

10. What is a topic that matters to you and what would you like people to know or doabout it?
I want all women to know it is ok to prioritise your wellbeing and take care of yourself. I do believe that aswomen many of us take on external pressures and even feel guilt in putting ourselves first. As a Mum andbusiness owner, my life gets busy! So I understand how easy it is to get so focused on caring for others thatyour own wellbeing starts to fall by the wayside.
Self-care does not mean that you have to be going on health retreats and getting daily massages (althoughthat is great for you if you can!). It means allowing the support of those around you and even seeking theguidance of a healthcare professional. Self-care, on the deepest level, is about allowing yourself the space tonourish your mind and body. It could be as simple as stopping to take some deep breaths, making sure youactually have lunch, or even just going to bed early. Getting to know your body and having awareness of itsindividual needs is by far the most profound act of self-care.
This blog is based purely on the author's personal experience. It is not intended to be a substitute for medical advice or treatment. The author is neither a medical nor health professional and cannot guarantee that the information in this blog post is accurate, reliable or complete. If you use this information, you do so at your own risk and should consult a qualified medical or health practitioner before relying on any information contained in this blog.