Cart (

0

)
Recently Added

0

Item
Total

$0.00
The item you just added is unavailable. Please select another product or variant.

Cart (

0

)
Recently Added
Total $0.00
The item you just added is unavailable. Please select another product or variant.
Awaken your best skin ever with our Next Generation Ingestible Beauty range.

Our products blend the best cutting edge innovations in science and bio-active technology to produce a range that's unmatched.
The kind of confidence that means every day's a no-make up day.

Women just like you from our global community tell us their skin becomes more beautiful, radiant and glowing than ever before.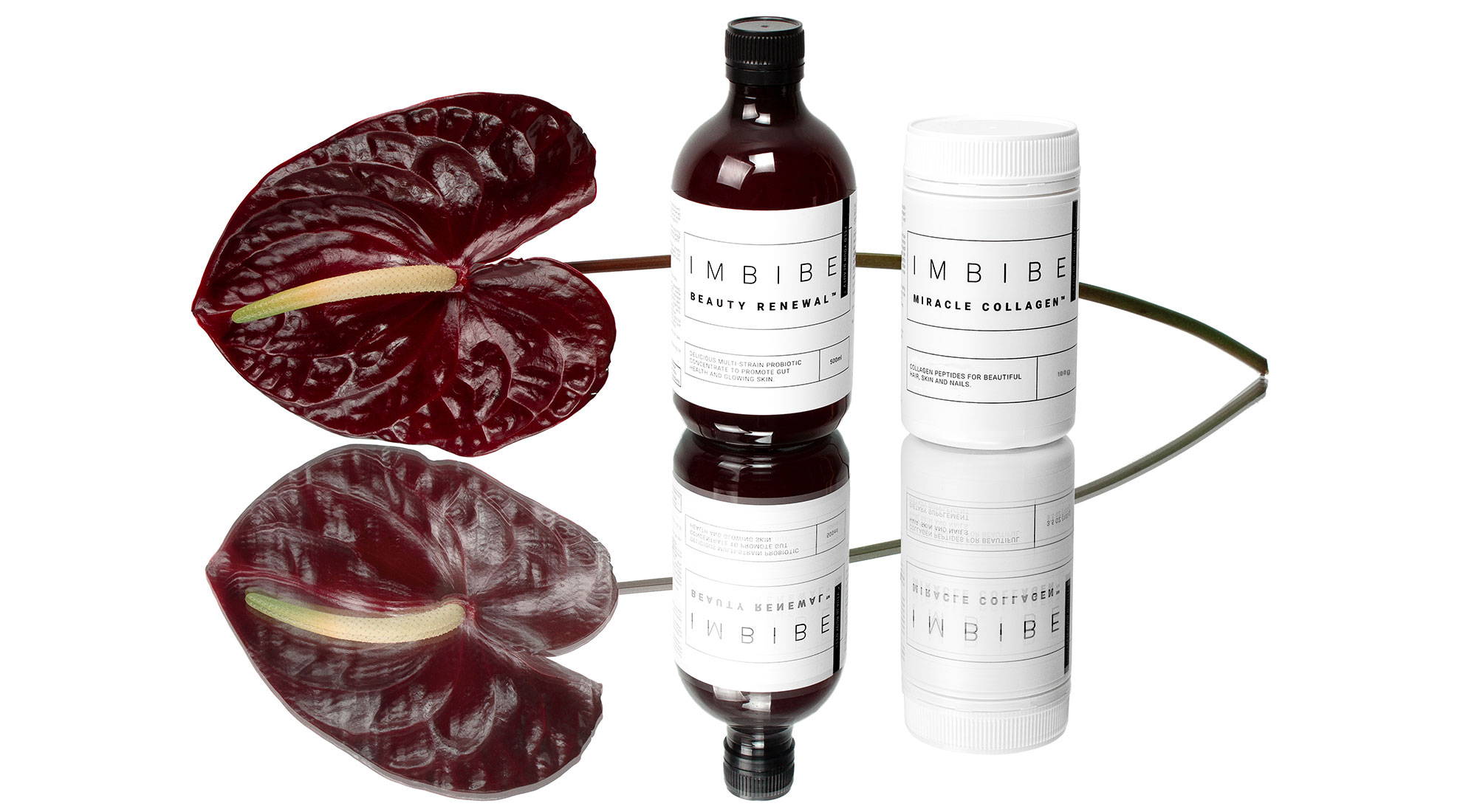 There's a reason we've racked up thousands of 5-star reviews in the last six months.
It works.
Our simple two-step Ingestible Beauty range is as potent as it is delicious.
We don't believe in shortcuts.
We believe in quality.
Our products are backed by rigorous science so that you get the highest quality products on the market today.
Women tell us our Next Generation Ingestible Beauty range creates everyday miracles.
But don't take our word for it - hundreds of 5-star reviews can't be wrong.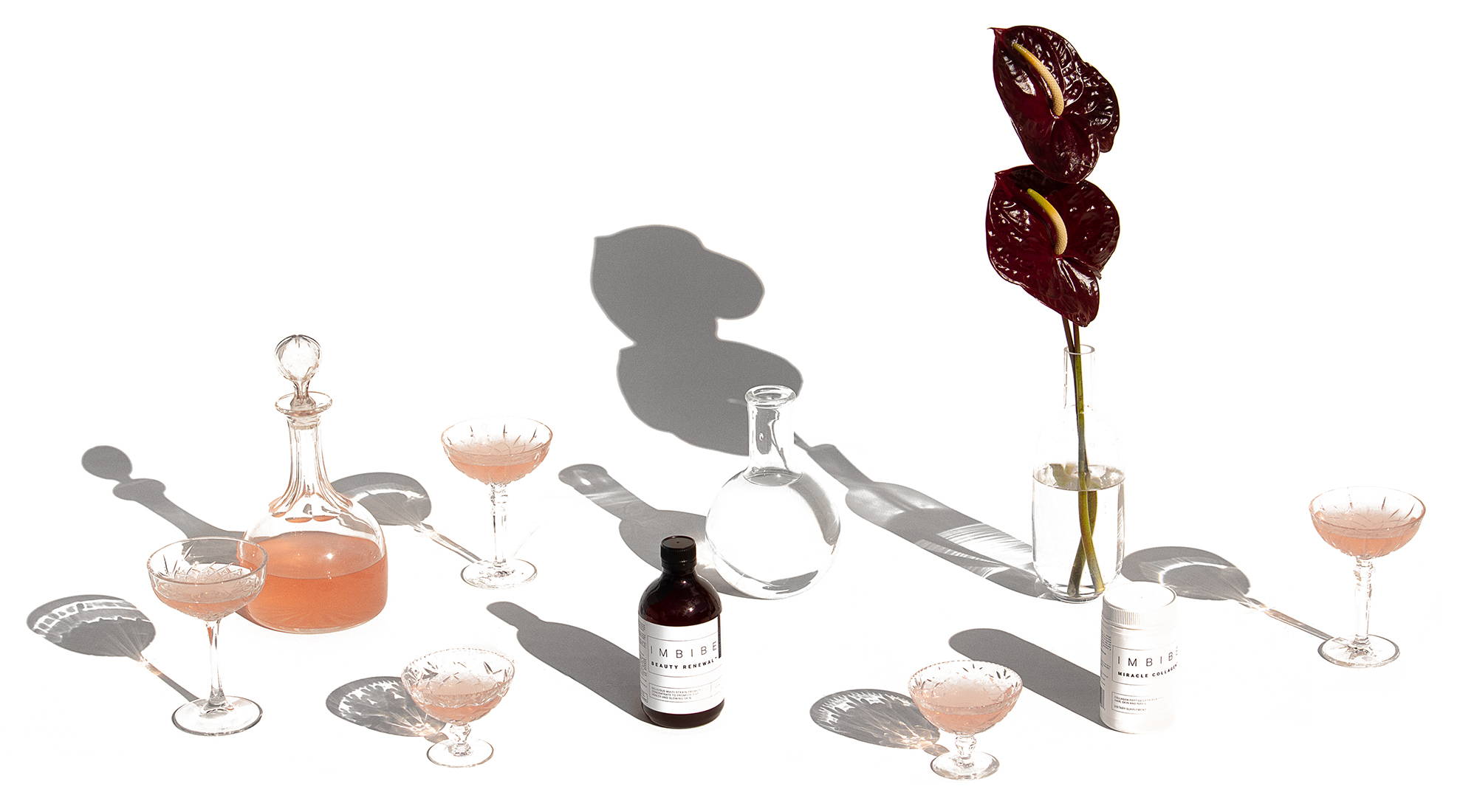 Experience digestive issues, don't you?
Most of us do.

Whilst that may be common, it's actually not normal.

Fortunately, it doesn't have to be that way.
Your gut is one of the main pillars of health, wellness, immunity, and glowing skin.
Our gut produces around 80% of our immunity, it synthesizes our hormones and it facilitates our digestion and absorption of nutrients from our food.
Bloating, digestive discomfort, IBS symptoms or low immunity, could be a symptom of an unhealthy gut.
However, nourishing your gut and strengthening your microbiome has never been more simple, affordable and delicious.
Enter our Beauty Renewal Probiotic Concentrate.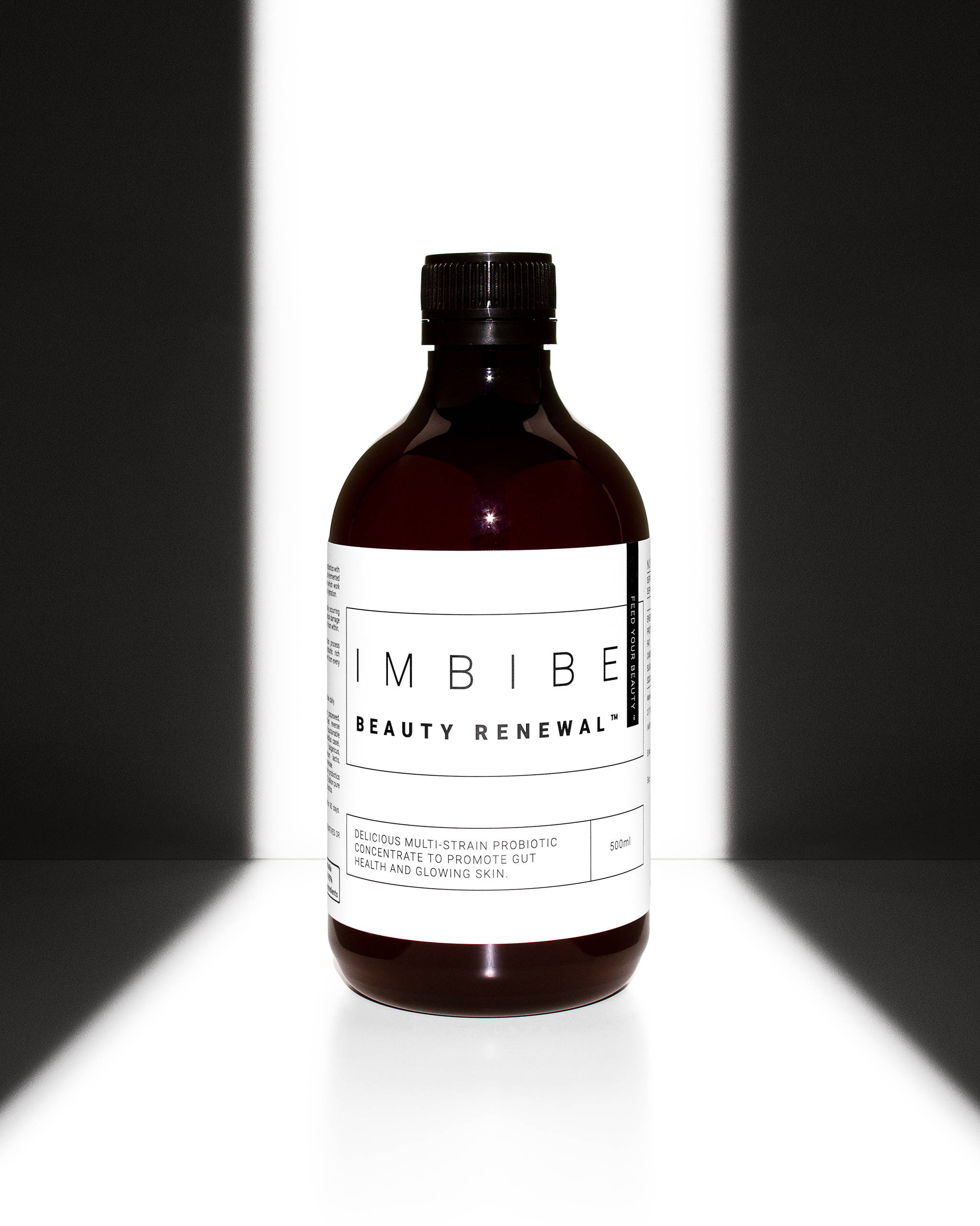 "I can't believe something this good for me tastes this good."
That's what women tell us all the time.
Our Beauty Renewal with its cocktail of probiotics and bio-fermented ingredients is our secret weapon for gorgeous gut health and glowing skin.
There's a well established link between gut health, probiotics and glowing skin and our Beauty Renewal Probiotic is the missing link.

Beauty Renewal unleashes a wave of properties to promote skin elasticity and improve your gut health which stimulates beautiful, dewy skin.

The fusion of skin-nourishing ingredients featuring bio-fermented coconut water, grapeseed and pomegranate contain naturally occurring antioxidants which may help reduce free radical damage, leaving you with that lit-from-within feeling.

Just take a tablespoon in water every day. It's that easy.

WHAT'S IN IT: Bio-fermented organic coconut water, grapeseed and seasonal mixed berries, natural vegetable sweetener, 8 strains of associated probiotics: Lactobacillus acidophilus, Lacto- bacillus casei, Lactobacillus plantarum, Lactobacillus bulgaricus, Lactobacillus fermentum, Bifidobacterium lactis, Bifidobacterium bifidum, Saccharomyces cerevisiae.

Approx 6 billion probiotics per serve measured by NKCA compared to a 25 billion pure probiotic.
No fillers, chemicals, fake flavourings, preservatives, artificial colours, stabilisers or food acids.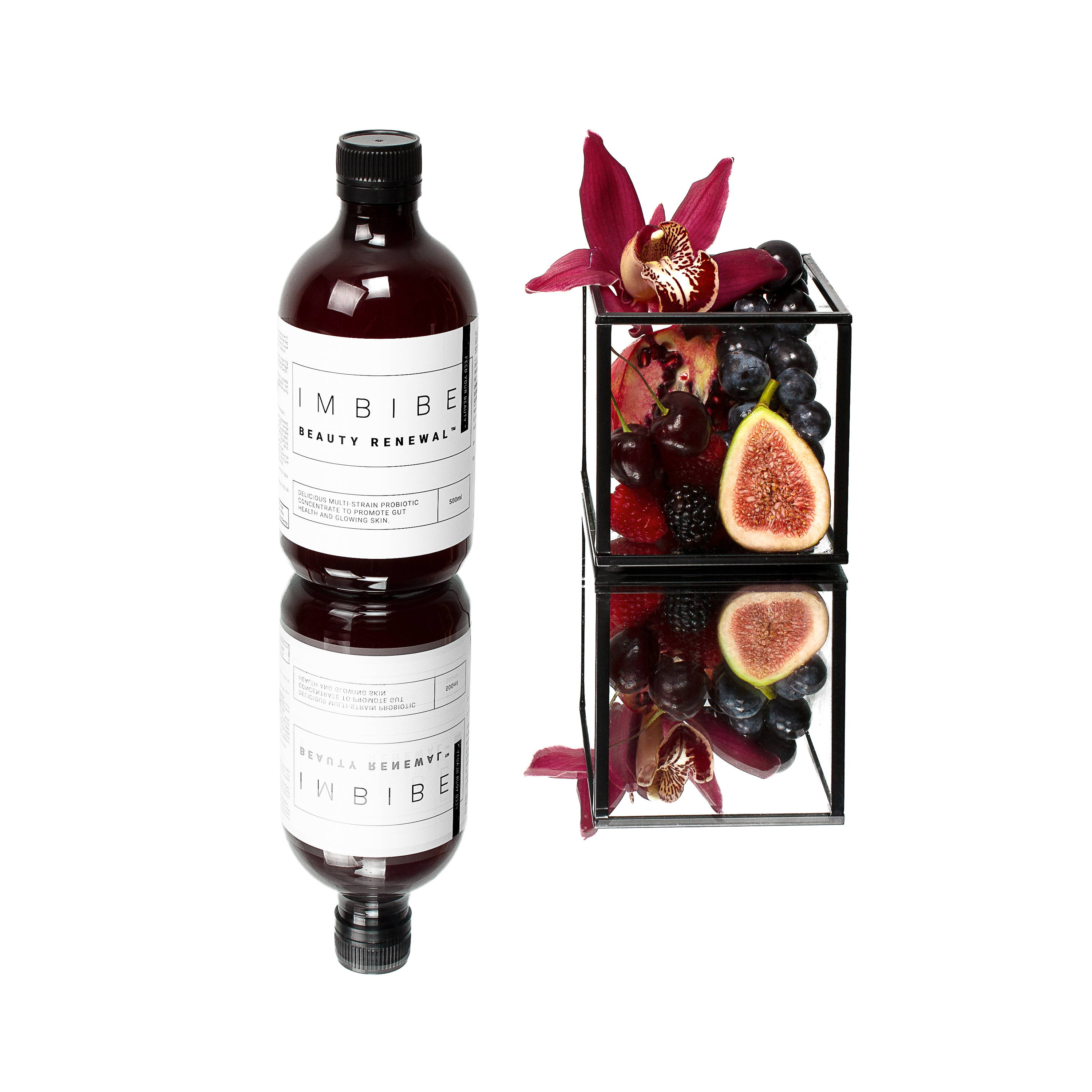 What's collagen, and why should you care?

Collagen is the protein that holds your beautiful body together and keeps your skin tight, plump and hydrated.
Collagen makes up around 80% of our skin structure and from our 20's, collagen production slows down.
Sad but true.
If you've noticed your skin's lost its elasticity, that your hair is brittle, breaking off easily, or stopped growing altogether?
It's time to act now.
Don't wait until the damage is done.
Stay in a state of prevention.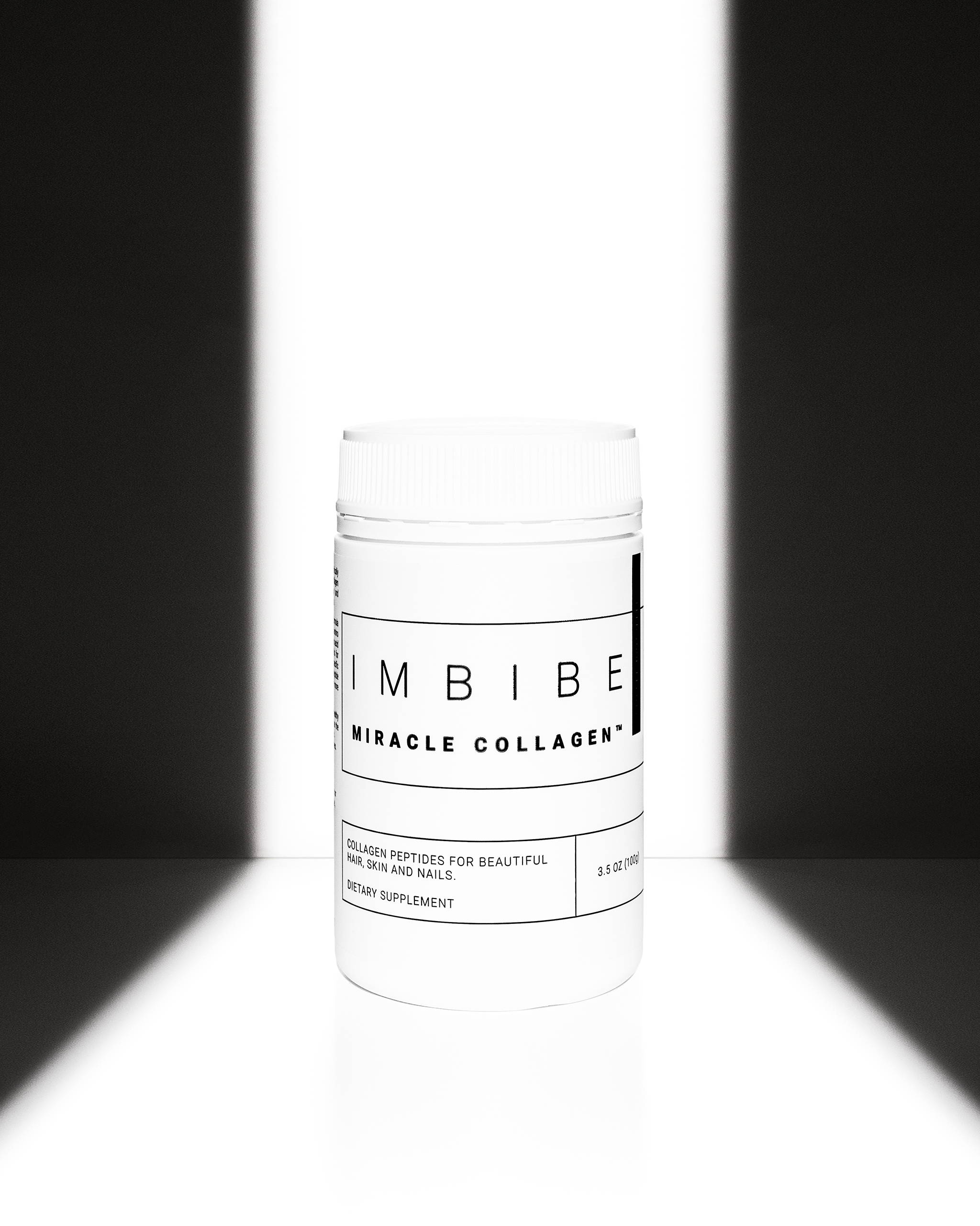 "It's quite literally, a miracle."

Women from our global community are telling us our Miracle Collagen is just that.
We don't just get any sub-par collagen and throw it in a jar with a fancy label.
We're not like that.
You deserve better.
Our Miracle Collagen is unique in that it's 100% bio-active and 100% bio-available to target the areas where skin sagging occurs.
It's not simply a protein powder.
It's clinically studied and shown to stimulate collagen synthesis in the skin so that you have the most hydrated, plump and glowing skin that's lit-from-within.
It's the Next-Generation of collagen and the most superior on the market today.
This breakthrough formula with 18 amino acids, including the very special amino acid glycine, provides the building blocks for radiant skin.

Plus our specific molecular weight of the collagen peptide stimulates skin cells to produce more collagen.

WHAT'S IN IT: 100% bio-active hydrolyzed bovine collagen types 1 and 3.
No fillers, flavours, or any other ingredients.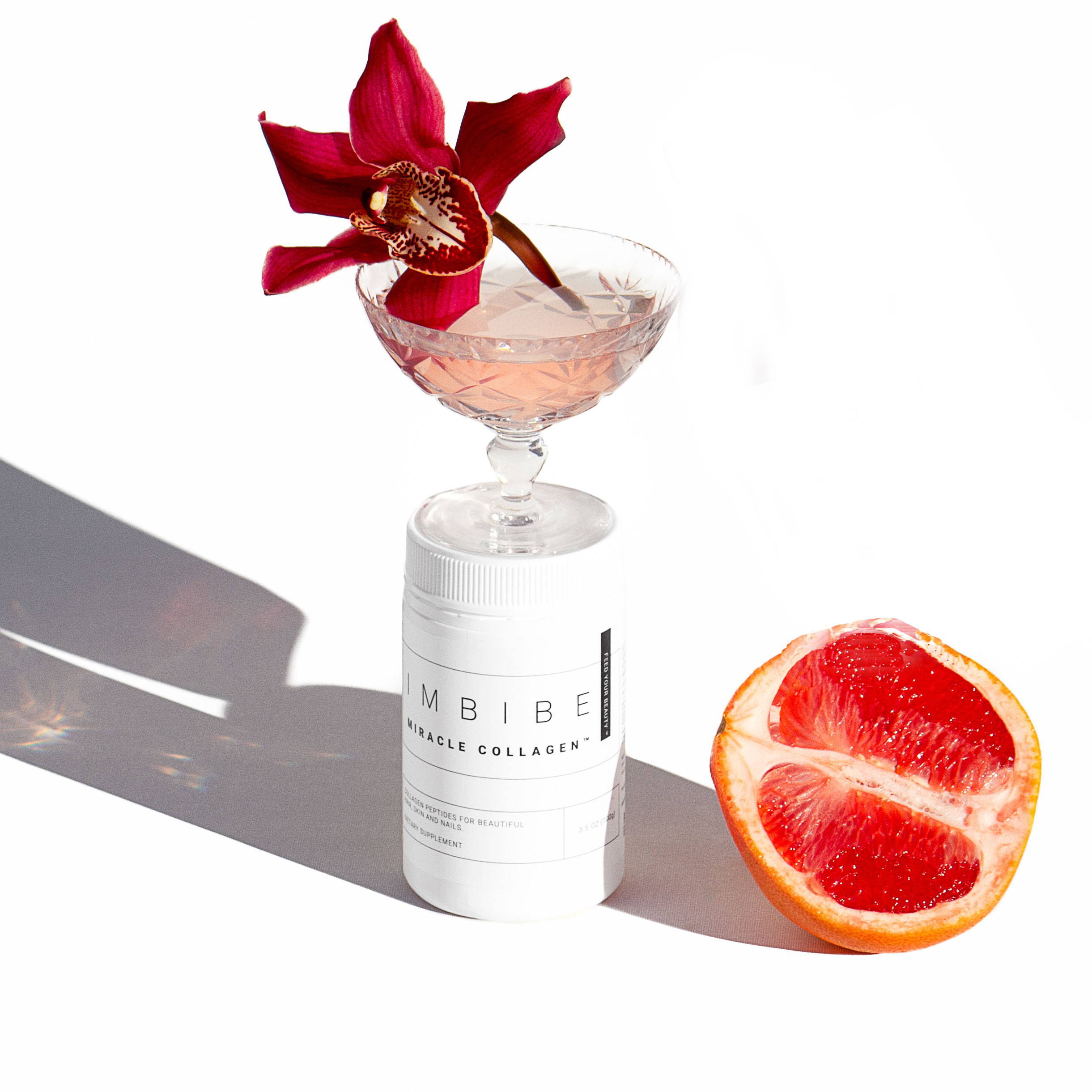 BACKED BY SCIENCE LOVED BY YOU
★★★★★

"Absolutely amazing! These products changed my skin game, I feel clearer, less congested and overall glowier while using these products!"
Sammi
★★★★★

"Couldn't be happier with the results and the probiotics taste so yummy! I have my collagen and probiotics together first thing in the morning!"
Phoenix

★★★★★

"Thank good for this product is all I can say! Good by fine lines & hello plump skin!! It's safe to say I'll be taking this product for the rest of my life!"
Tash

★★★★★

"I seriously love this product, if I miss a morning I really notice it. Will never stop using it."
Janelle

★★★★★

"Have been using this for the past two months and have noticed an unbelievable difference to the strength and appearance of my hair. It's so much shiner, and vibrant. My skin too has a healthy glow. Would recommend"

Sierra

★★★★★

"Could not love these products more! The Beauty Renewal tastes amazing and is the favourite part of my morning routine! The collagen is also amazing basically tasteless, I don't even notice it in my morning coffee! My skin and hair have been amazing and people regularly tell me I am 'glowing'. I put it all down to Imbibe :)"
Lea

★★★★★

"Loved it. My tummy was much more settled.My skin & hair are improving daily & have been asked for my secret :) I did share"
Jane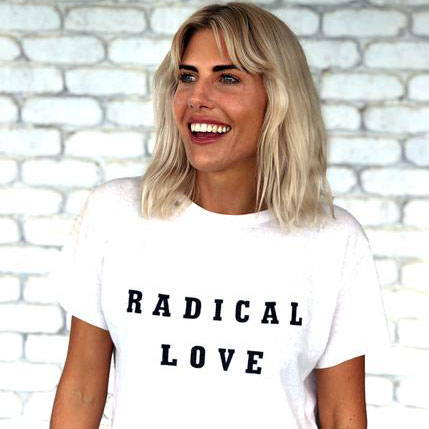 "I've never experienced a collagen with such high-quality ingredients. I've noticed a huge change in my own skin and gut health since using the products.In terms of the Beauty Renewal, I have not come across a functional beverage that contains such amazing probiotic strains together that work to reduce inflammation and help you get that beautiful skin-glow and gut health."
Katherine Hay
Clinical Nutritionist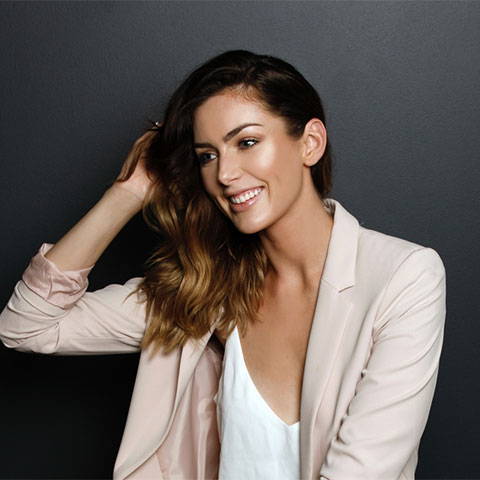 "I'm a clinical cosmetic nurse and I have all my patients on the Imbibe range. It's the only clinically studied collagen that can help support skin health.There are a lot of gimmicky collagens out there, but the Imbibe Miracle Collagen is the one I choose because it's the highest quality on the market.The Beauty Renewal product works wonders for my skin and my patient's skin and gut health."
Madilyn Wolens
Registered and Cosmetic Nurse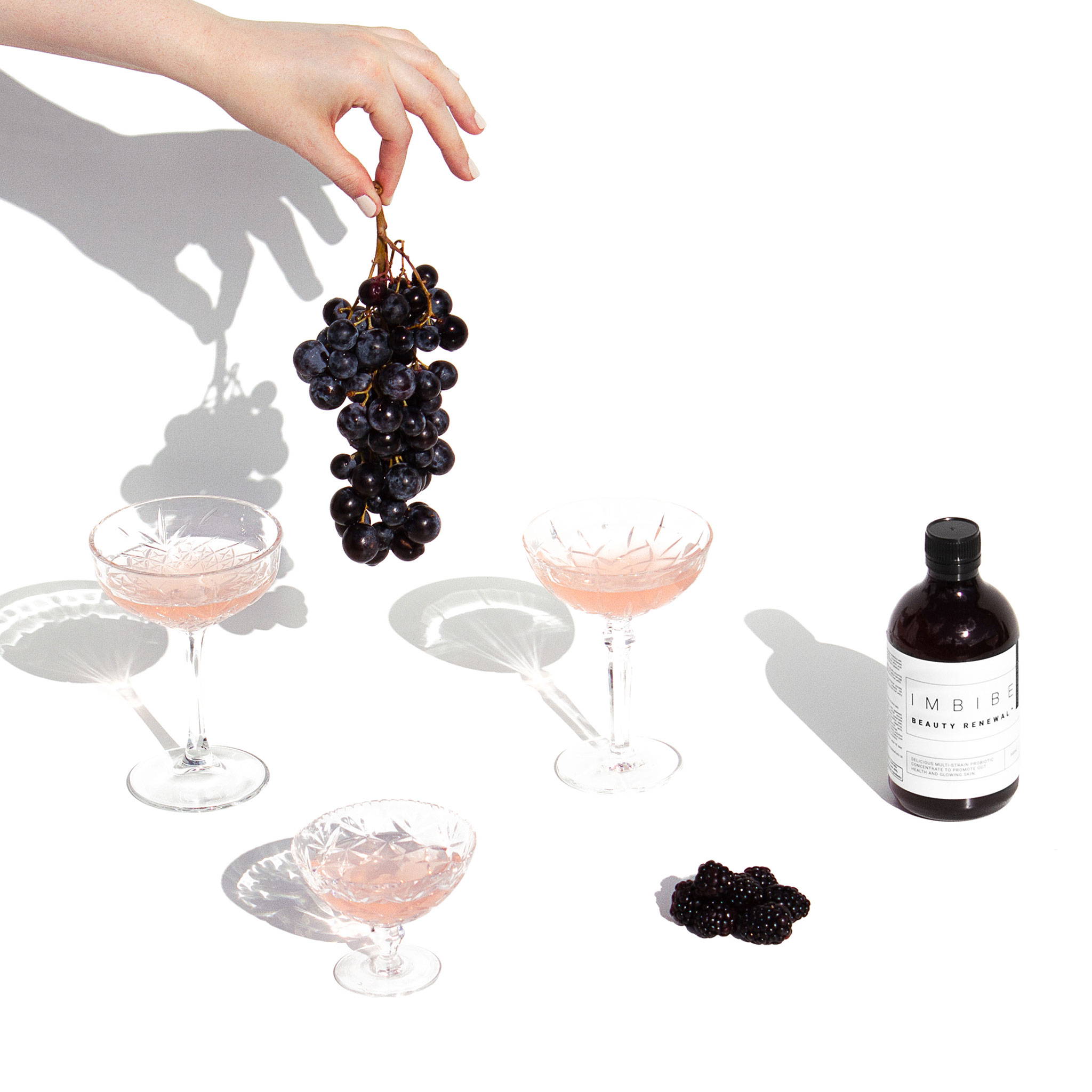 BIO-ACTIVE. Our products are bioactive. They're unique in that scientific studies show they stimulate collagen production in the skin. The average molecular weight of the collagen is 2kDa- this is scientifically proven to stimulate the skin cells.
BIO-FERMENTED. Our proprietary 5-stage, 28-day lacto- fermentation process unlocks the nutrients and probiotics to make them more easily assimilated by your body.
BACKED BY SCIENCE. We've assembled a team of leading microbiologists and scientists to bring you the highest quality products that are inspired by nature and backed by science.

PROBIOTIC RICH. We believe in feeding your microbiome with a broad range of probiotics so that your gut is truly nourished and you can thrive.

SUGAR-FREE. You're sweet enough. Our products are either 100% or 99% sugar-free and don't contain nasty fake sweeteners.
GUT HEALTH. Your gut is the cornerstone of optimum health and vitality. Our products support and nurture your gut which can help give you robust immunity, hormonal balance, and dewy skin.
GLUTEN-FREE. All our high-quality products are gluten-free.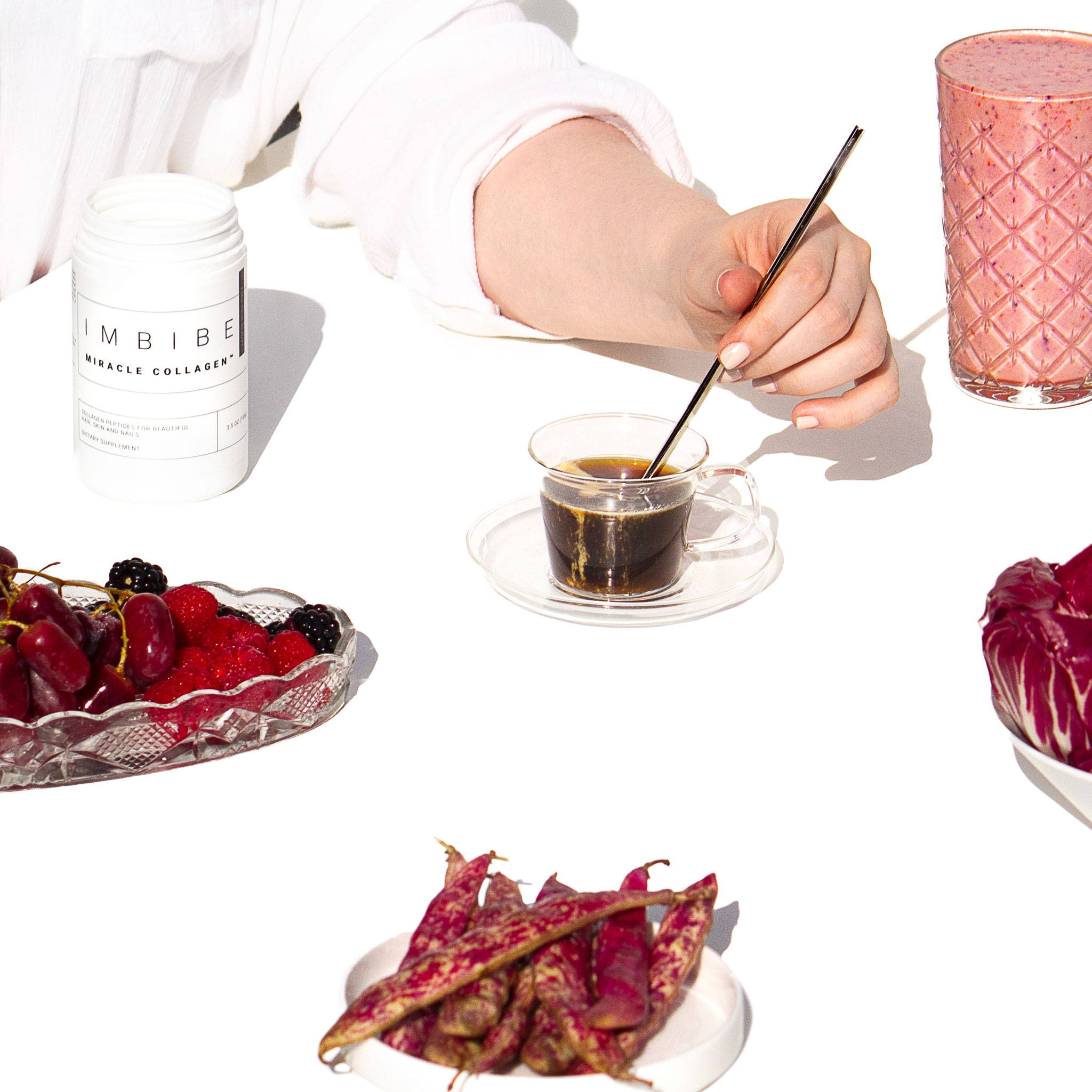 Are these products safe for me to take when pregnant or breastfeeding?

Yes! Our Miracle Collagen is 100% fine for you to take if you're pregnant or breastfeeding. While for the Beauty Renewal, the most up-to-date advise we have is you should check in with your chosen healthcare provider before taking it.

Are these Vegan?

Yup, the Beauty Renewal sure is! The Miracle Collagen, it's not. Actually, there is no such thing as "vegan" collagen. The companies that are promoting a "vegan" source of collagen are simply misleading you with their marketing. Collagen, by very definition is the connective tissue found in animals. If you'd like to know more, please take a moment to look at this blog post for more info.
Is this safe for my kids to take?

Yes, Miracle Collagen is fine for children to take. We love it mixed into smoothies. For the Beauty Renewal, the advise is that for children under the age of 3, you're best to check with your healthcare provider.
Where is your Beauty Renewal made?
It's made around 100km away from Byron Bay, in Queensland. Definitely Australian made!

Where do you source your collagen for Miracle Collagen?

We scoured the globe to source the most potent bioactive collagen for you, because we don't settle for anything less than the best (and neither should you). Our collagen comes from global sources, including Germany, Brazil, Sweden, Switzerland, Norway and others. You can be assured that we have the highest level of stringent quality control and assurance.
Is this shelf stable (do I need to refrigerate it?)

No refrigeration necessary for the Miracle Collagen. Just keep it in a cool dark place. The Beauty Renewal is shelf stable when you receive it. But after you have opened Beauty Renewal, it's best to keep it refrigerated and use within 90 days.

How soon will I receive my package?

We pack orders daily, and provided we receive your order by 11am, it will be sent on the same day. For more on our shipping terms, please take a look here.

Why is this product packed in plastic?

We have spent an entire year testing and sourcing the best compostable packaging to make sure your collagen package meets our stringent quality controls. It's been a huge task and we are nearly there. If you'd like to know more about our sustainability initiatives, please take a look here. We are close to being able to offer this to you in fully biodegradable and compostable packaging. We have removed the plastic scoop. And, of course, this package is entirely re-useable and recyclable.