Cart (

0

)
Recently Added

0

Item
Total

$0.00
The item you just added is unavailable. Please select another product or variant.

Cart (

0

)
Recently Added
Total $0.00
The item you just added is unavailable. Please select another product or variant.
A new generation of personal care.
Awaken your pleasure,
Your power,
Your passion.
Organic plant and petal oils unite in one luxurious serum.
Celebrate your sacred.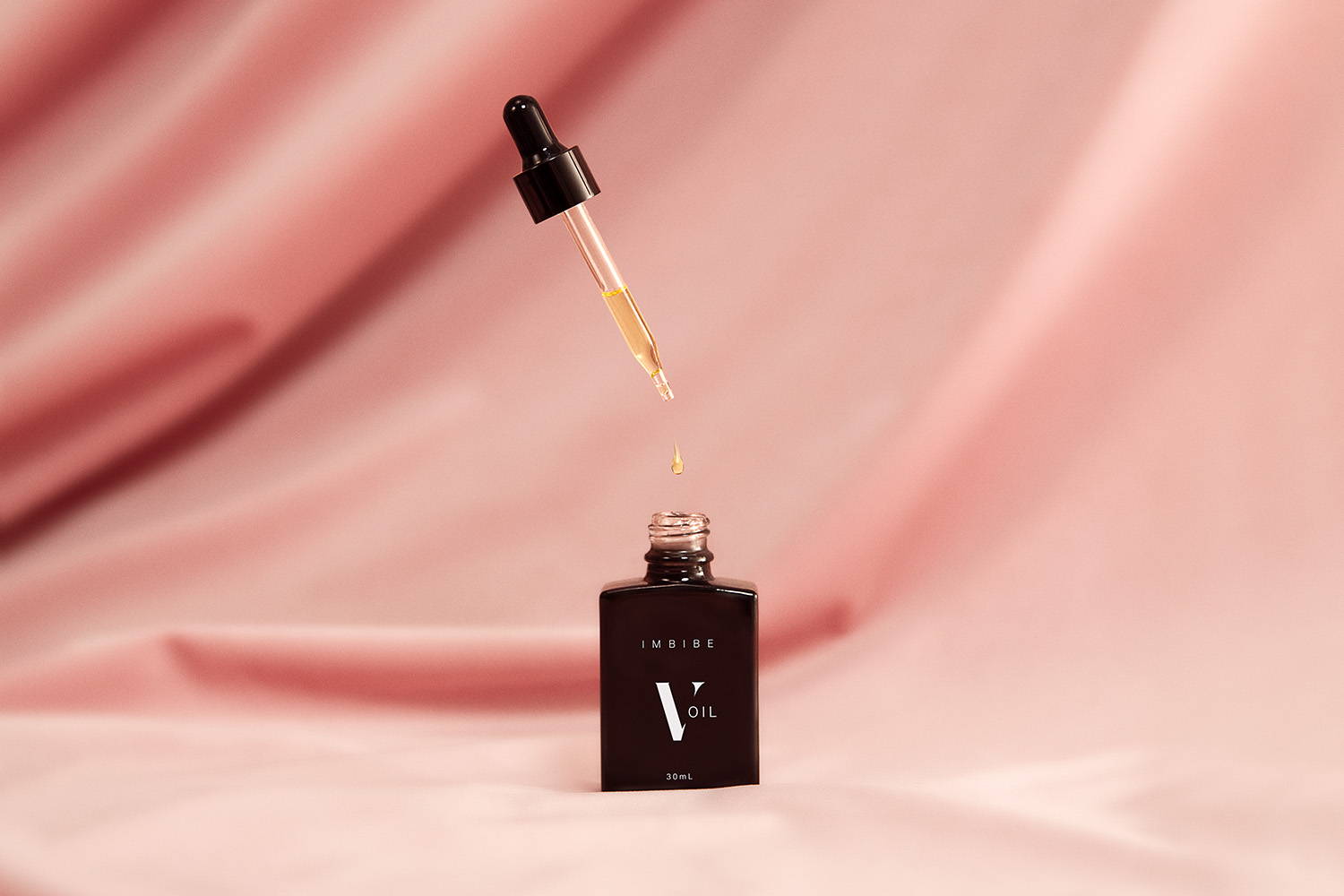 V-Oil by Imbibe, is your new intimate skincare ritual to arouse your senses, ignite your passion and care for your yoni.
Abundant in toxin-free, organic potent plant oils and incredibly precious organic Rose Otto oil. V-Oil provides suppleness where it counts, pleasure when it counts and a sacred understanding of the woman's natural landscape to provide pleasure, power and lasting, silken support day and night.
Elevate your connection to your creative centre.
V-OIL is the divine secret union of coveted organic plant and petal oils to elevate your daily sacred ritual and invoke your passion and power.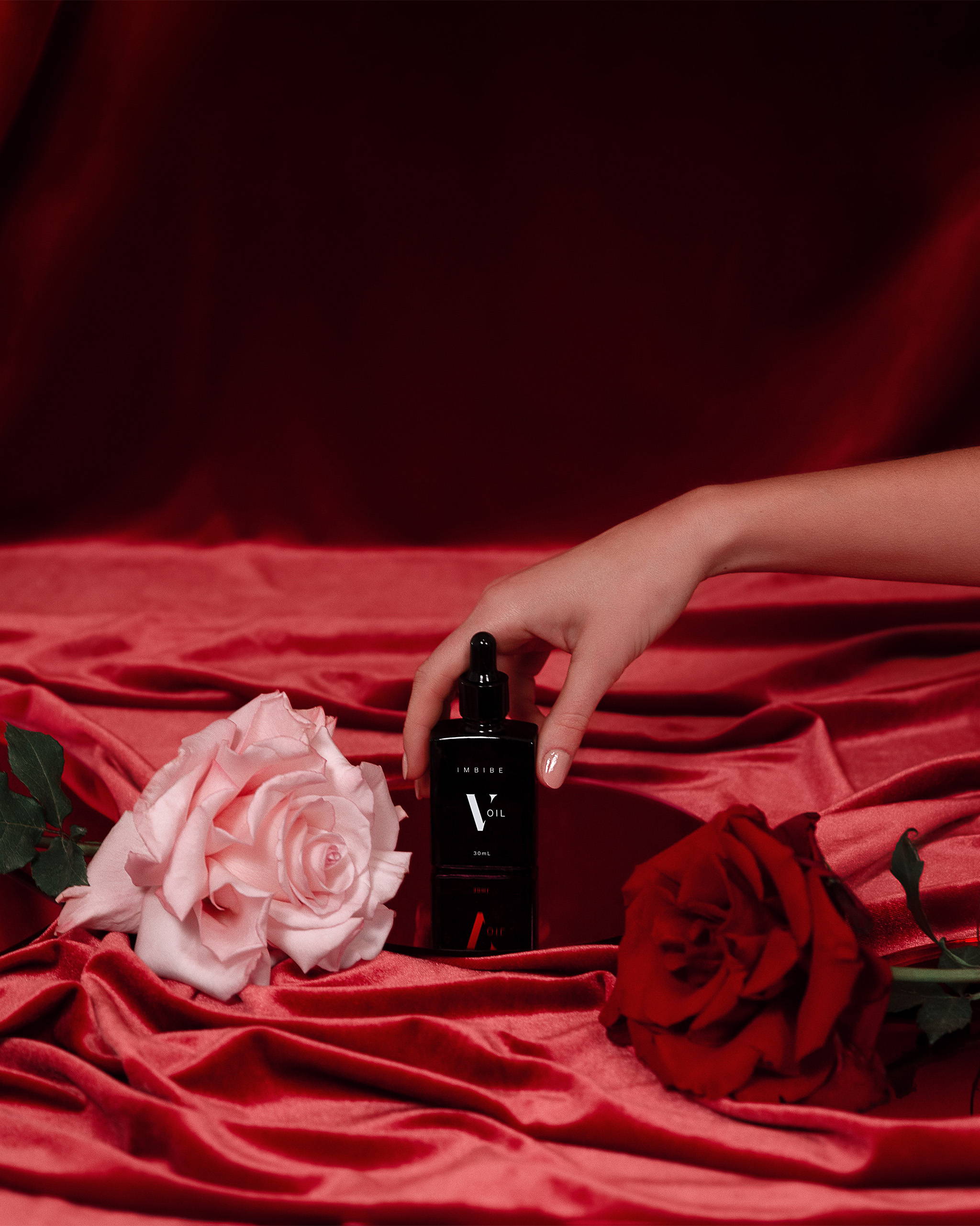 A MODERN OIL FOR THE MODERN WOMAN
V-Oil was created to help the modern woman nourish her creative centre and give a little extra love to her yoni.
In these modern times, a lot of creative power is needed to keep up with the busy lives we now lead as women, mothers, business owners, wives, lovers and daughters.
V Oil is a chemical-free potent serum to revitalise your core energetic centre.It is an opportunity to have a moment of self-care.
To come back to yourself, your creative centre, and the ultimate birthplace of beautiful things.
V-oil is a union of coveted organic plant oils to elevate your everyday.
Rich plant and flower oils create a deeply nourishing serum to perfectly complement your self-care ritual.
Beautifully arousing.
Lightweight.
Fast absorbing.
Gentle.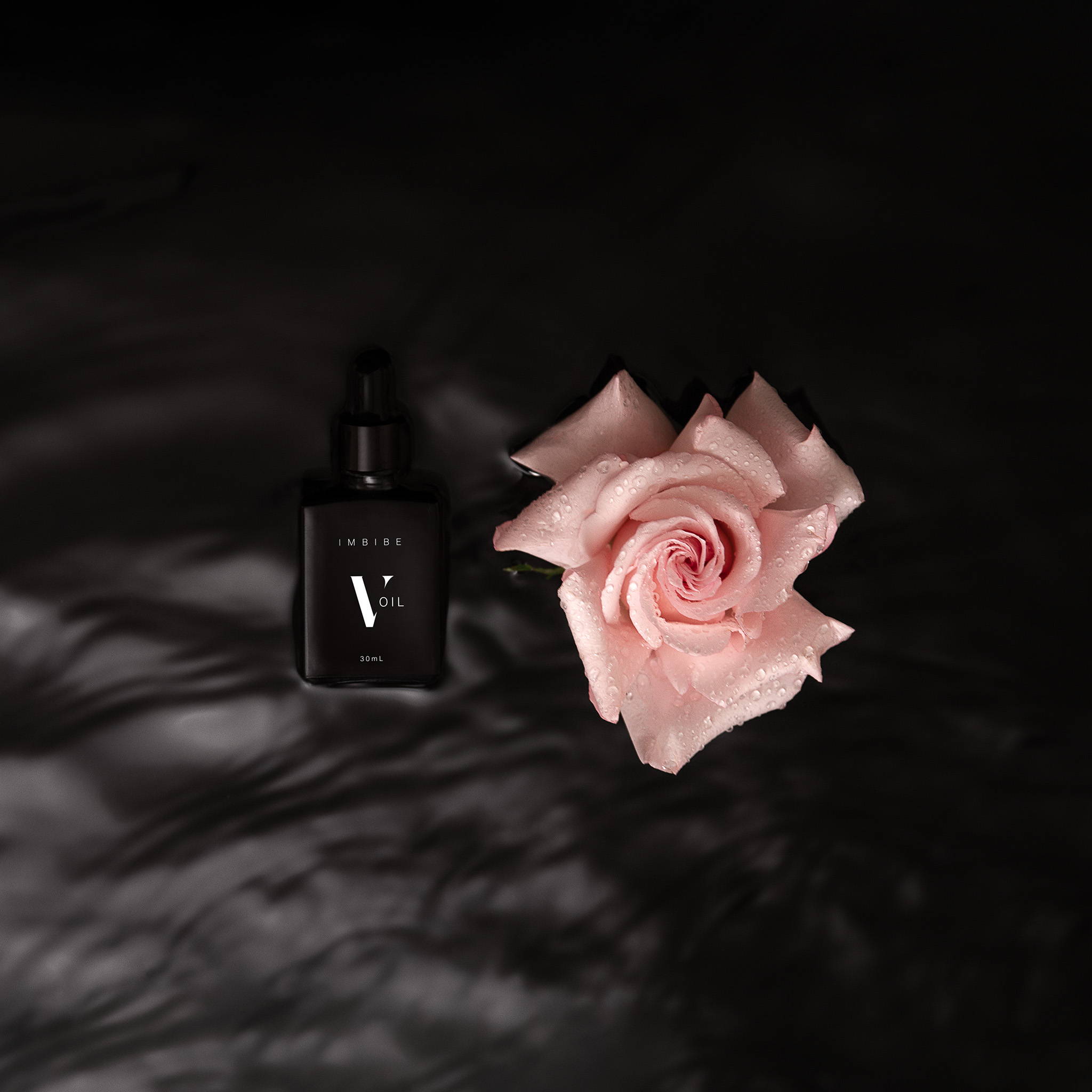 This highly-prized sensual oil is known for its intoxicating and arousing aroma.

Pure organic rose petals are extracted using non-toxic methods (most Rose oil you buy is extracted with highly-toxic means which can leave a chemical residue) over several days into our lightweight, non-greasy plant oils to infuse their absolutely divine aroma.
Our Rose Otto oil is a precious ingredient, grown and hand harvested by small-scale farmers who have been ploughing and harvesting this sacred flower for several generations.
The petal is where most of the rose's coveted essential oil is found, but in very small amounts.
This ancient skin healer, the use of which dates back to the days of Cleopatra, is just one of the 5 multi-active ingredients in V-Oil.Our Rose Otto oil is known for its aphrodisiac affects, evoking pleasure, sensuality and passion with every drop.
Our Rose oil is special.
We use the extremely expensive and coveted rose essential oil from organic roses.

CERTIFIED ORGANIC JOJOBA OIL
Jojoba, a soothing golden elixir for the skin which can improve hydration and moisture levels.

It can help keep the skin soft, supple and provide support for skin elasticity.
Our Jojoba oil is lightweight and non-greasy, making it a perfect addition to your daily self-care ritual.

CERTIFIED ORGANIC POMEGRANATE OIL
A powerful cold-pressed whole-plant oil containing antioxidants to support skin elasticity and suppleness.

Pomegranate oil contains essential fatty acids which can help to further care for and protect delicate skin.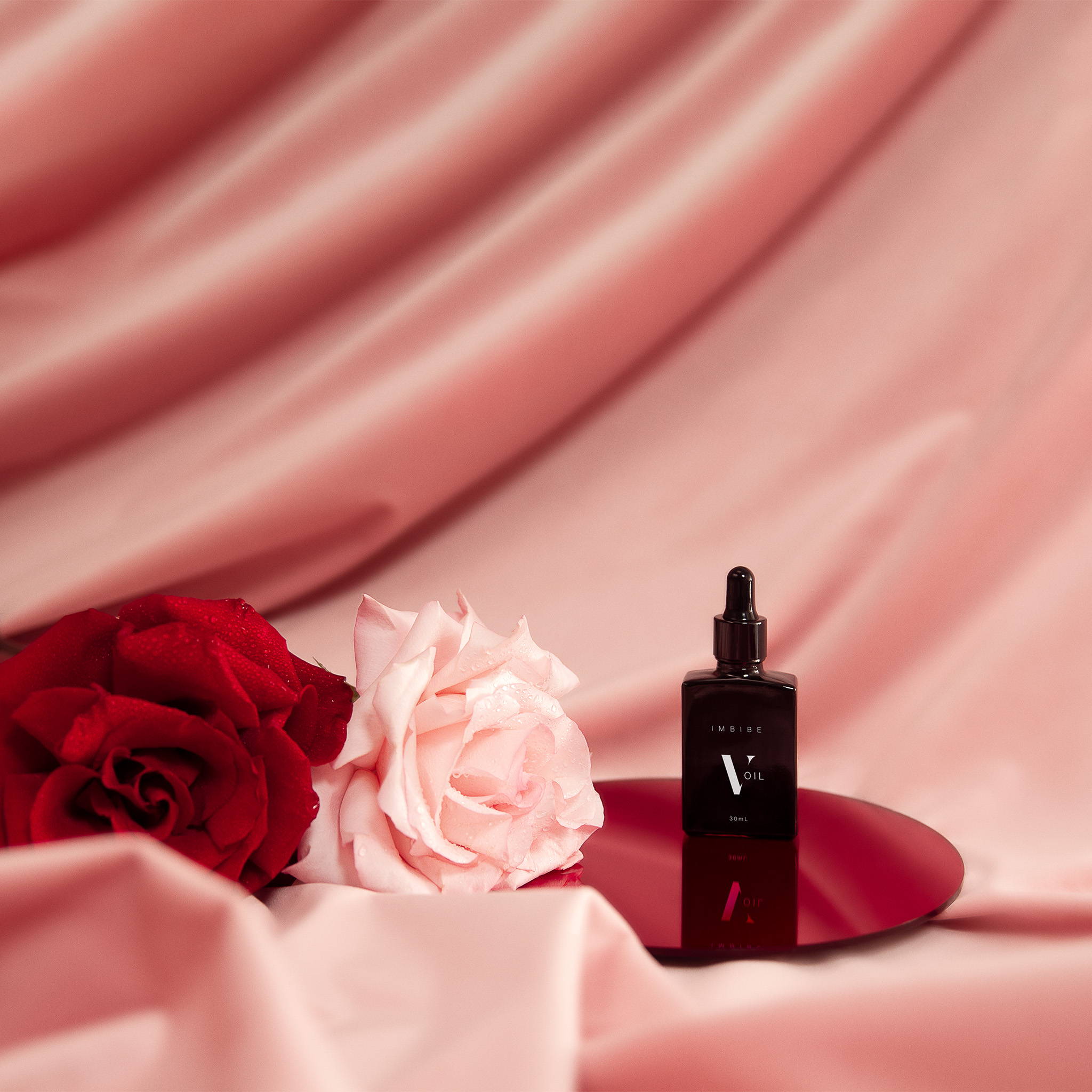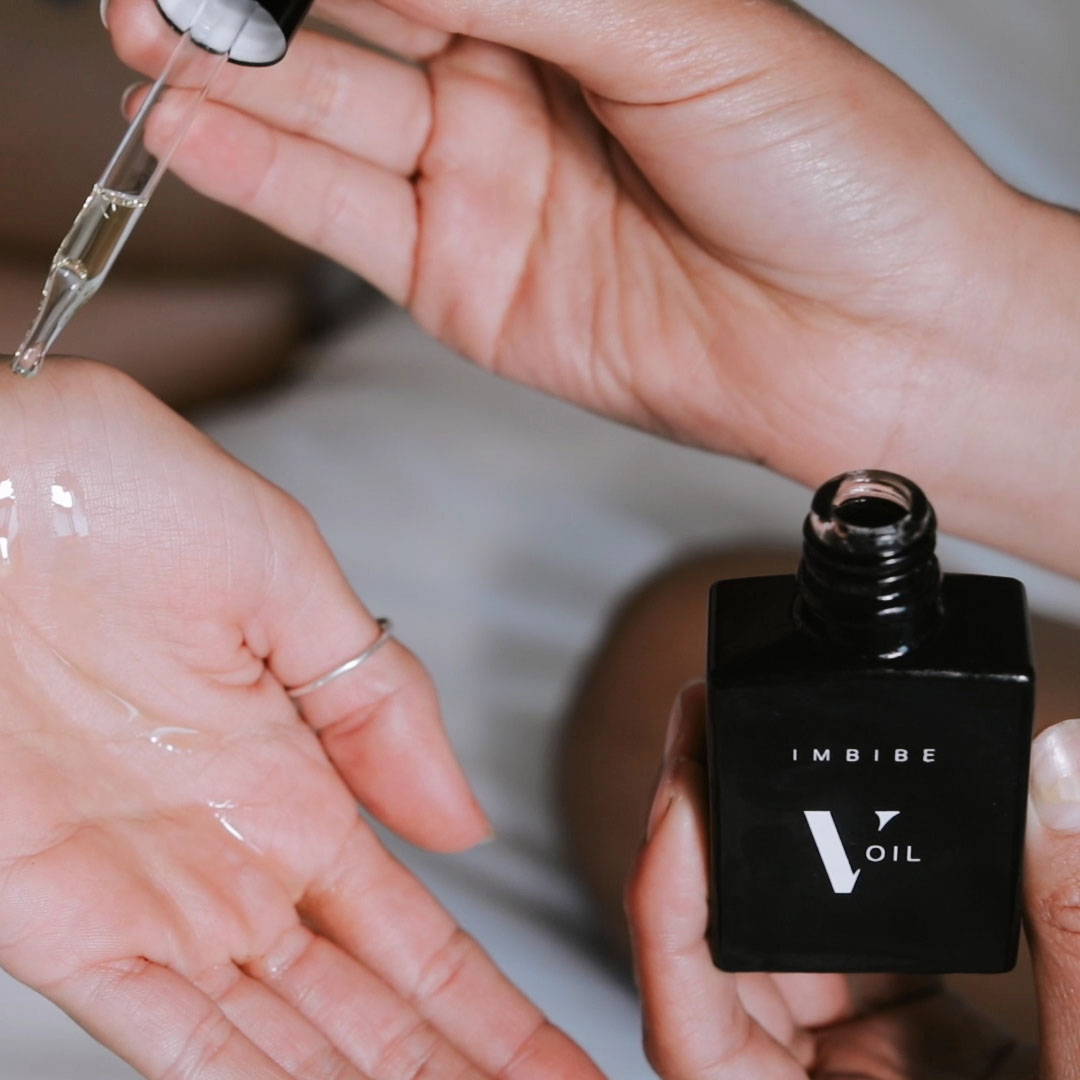 CERTIFIED ORGANIC CAMELLIA SEED OIL
Known as "The Rose of Winter", this gentle oil contains essential fatty acids helping retain skin moisture and suppleness.

The beautiful geishas of Japan, well known for their stunning looks and smooth skin use camellia seed oil to keep their skin flawless and youthful and their hair healthy.
Our camellia seed oil comes from the Camellia oleifera plant that grows in the mountains of South Eastern Asia.
CERTIFIED ORGANIC VIRGIN SWEET ALMOND OIL
Containing naturally occurring Vitamin E, sweet almond oil is known to provide intense moisture for your most sensitive areas.
Our organic sweet almond oil is pressed from the seeds of the beautiful almond tree, the same almonds you eat.

Combined, these concentrated plant and flower oils are amplified to provide the ultimate sacred serum to care for your yoni.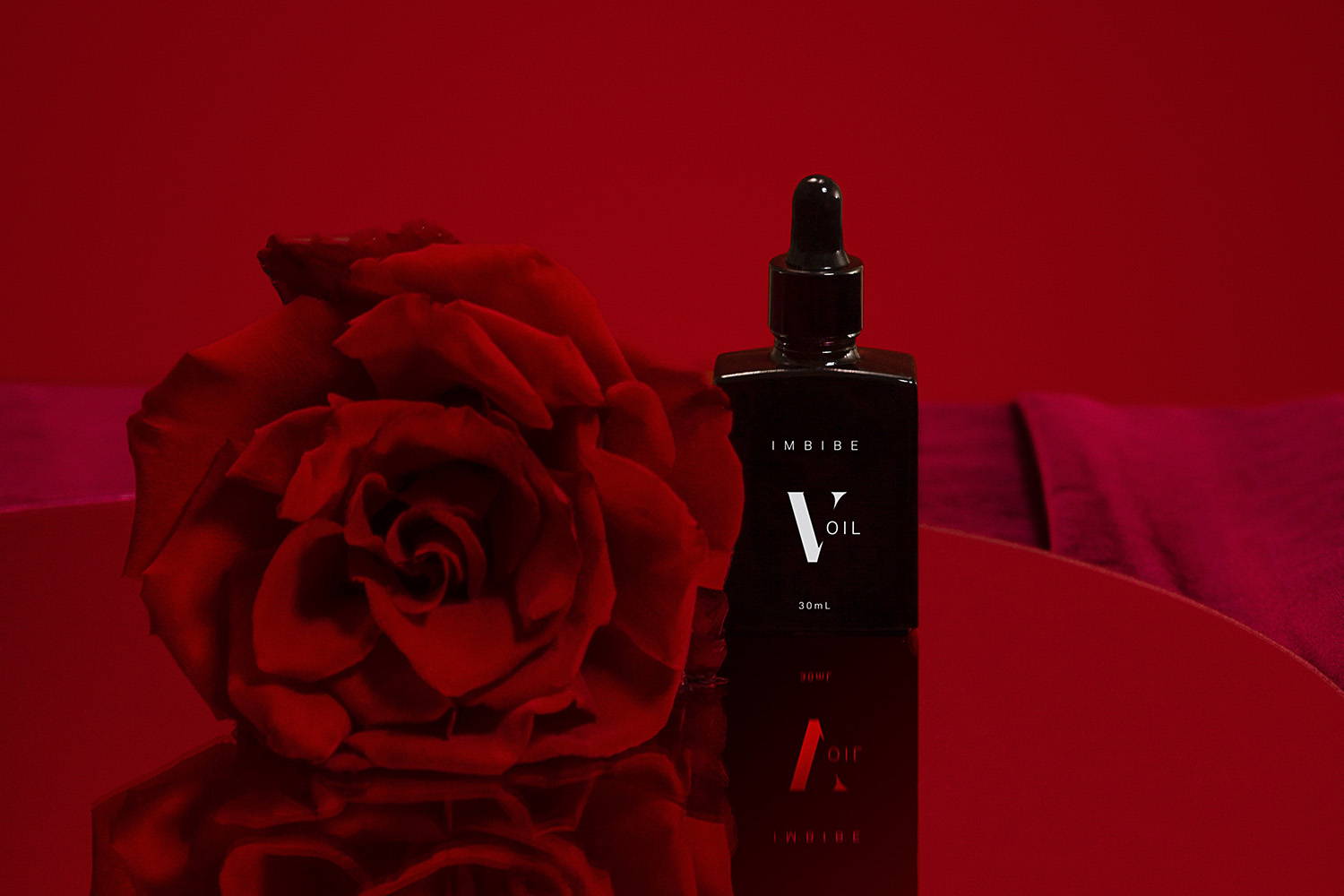 Always organic. Free from chemicals

Perfume and artificial fragrance free.

Pure steam distillation, non-toxic, perfume free.
Handcrafted and bottled in Byron Bay.
Small batch production, every batch poured fresh to order.
Gentle on your skin, gentle on your clothes.
Tested on hundreds of women, never animals.
V Oil is a sacred serum to elevate your everyday.
Our innovative yoni oil is an empowering serum for the modern woman.
The woman who understands that her femininity is her power.
She knows that her sacred alter deserves support, celebration and unapologetic liberation from the realm of taboo.
V Oil is for every woman who seeks to awaken her full potential.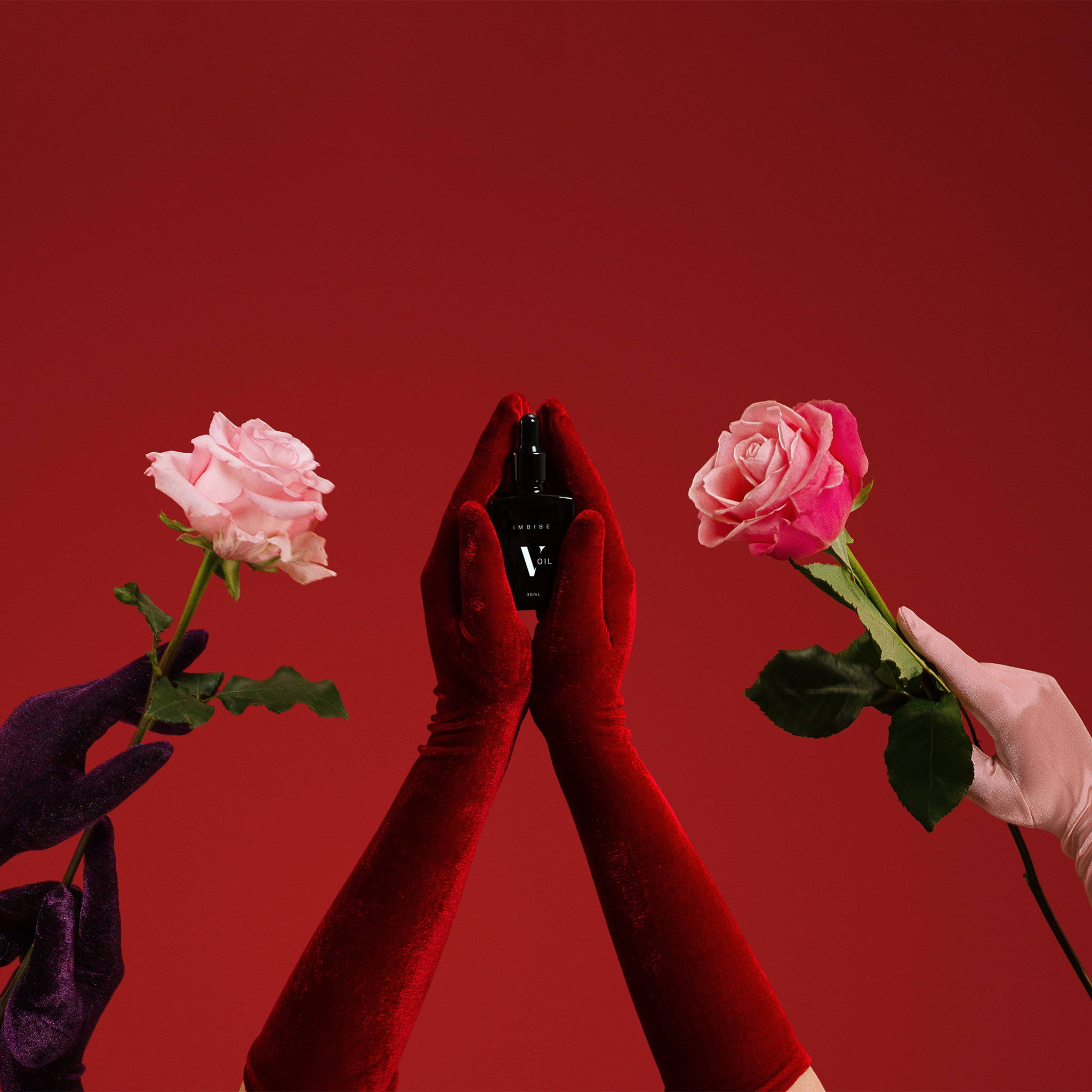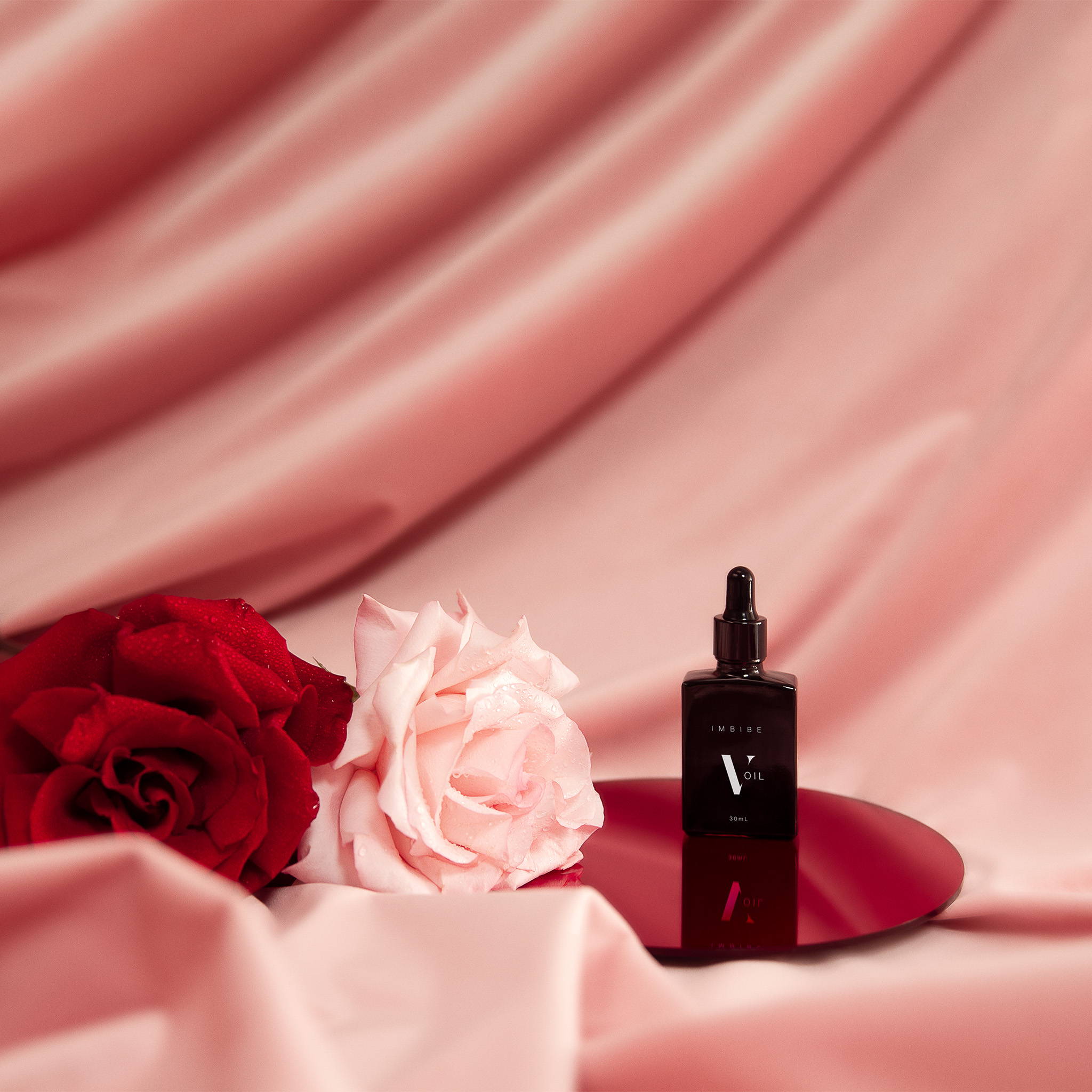 Steam distilled, organic essential oils.
Steam distillation is the purest method of extracting precious essential oils.
It differs from the common and toxic method of 'solvent distillation'.
Solvent distillation leaves behind chemicals, and yet it can still be classified "organic". We don't use this method because of the chemicals it leaves behind.

Organic Indian rose petals are steeped into the plant and flower oils over several days to impart their natural fragrance and arousing aroma.
Our V-Oil is made with chemical free, organic ingredients only.
We hand-make and hand-bottle every batch in idyllic Byron Bay
Directions: Apply 3 drops topically to nourish the sacred altar between your legs.
Will my skin react to V-Oil?
V-oil is made from organic oils - they're designed to be gentle on the skin, promote skin elasticity and be a subtle but welcome edition to your everyday self-care. If you experience any reaction, please discontinue use.
How often should I use it?
We recommend everyday use for ultimate power, pleasure and satisfaction throughout your day. Our global community of women have claimed to use it for a variety of things. These include daily self care, pre-birth, post pregnancy, for night use, pre and post sex, and for skin healing.
How do I apply my V-Oil?
Simply apply three drops topically (externally) to your yoni. Not intended for internal use.
How does V-Oil fit into my daily skincare routine?
V-Oil is intended to give you that little bit of intimate self-care and love. You can apply it as desired, daily, twice daily or intermittently. Choose your own adventure.
Will applying serum to my vagina interrupt my vaginas self cleaning qualities?

Our V-Oil is a light oil designed to soften and assist skin elasticity. The recommended application of 3 drops applied topically should compliment your vaginas natural ability to clean.

Why do I need V-Oil?
At Imbibe, we believe that you are perfect as you are. Our V-Oil is created to empower your days and provide moments of self care. It is not a produced to mask any shame around vagina. Quite the opposite, it is a product to help you begin a more healthy relationship with your yoni. It was created to help you pay attention to your womanhood, your power, and your creative centre.

Will it upset the PH balance of my vagina?
In a word. No. The use of our V-Oil is a light application once, or twice daily. It is to be applied topically to assist elasticity and enhance your connection to self. It is not known to upset the PH Balance of your vagina due to the ingredients properties. Our ingredients are chemical free, and all certified organic oils. None of our ingredients have been known to irritate your vagina. If however you are prone to yeast and bacterial infections, use with caution and discontinue if you experience discomfort.
Will V-Oil stain my underwear or clothes?
Our V-Oil is a light consistency, designed to absorb into the skin of your outer labia. Due to this light consistency, it is not sticky, lingering and does not stain any clothing.

What does yoni mean?
Yoni is the Sanskrit word that has been interpreted to mean womb and the female reproductive organs. We have used this word in this context because it refers to all parts of the female sexual organs including the vagina, vulva and uterus.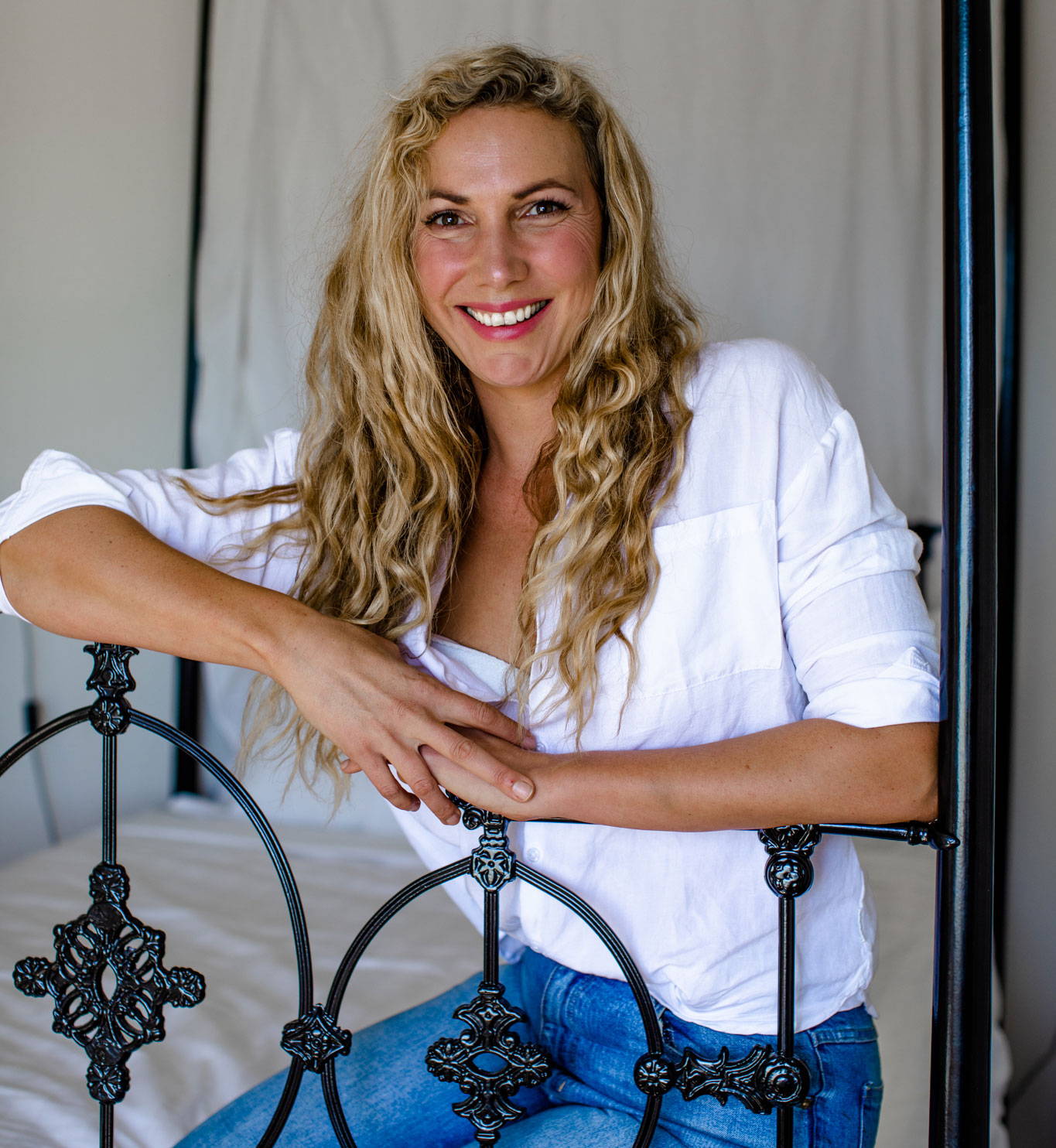 10 years in the making for 1 sacred serum.

I created my own version of a V-Oil 10 years ago as I was getting ready to birth my first daughter.
I was looking for a certified organic and gentle serum I could put on my most sacred parts to help ease my body into the birthing process.
Turns out, I had to make it myself.
Then, after my daughters were born, I used my version of this to help reduce scarring and scar tissue.
The ritual remained in place.
A moment to come back to my creative center.
A moment with my husband.
More pleasure in love-making.
A moment to connect to myself.
I know all too well the stress and intense daily demands that women are under - both in work, at home and with raising children.

A simple act of using V-Oil daily has become a way to tap into my creative power, my energetic center.
Come back to yourself and the ultimate birthplace of beautiful things.

Celebrate your sacred.