Cart (

0

)
Recently Added

0

Item
Total

$0.00
The item you just added is unavailable. Please select another product or variant.

Cart (

0

)
Recently Added
Total $0.00
The item you just added is unavailable. Please select another product or variant.
LOVE IT

★★★★★

"Couldn't be happier with the results and the probiotics taste so yummy! I have my collagen and probiotics together first thing in the morning!"

Phoenix
FEELING GOOD

★★★★★

"After trying this product for about 3 weeks now. I have noticed quite few changes. Will definitely continue to use this product"

Kirsten

SUCH AMAZING RESULTS
★★★★★
"I am shocked by how well and quick this combination has helped my gut health and skin. I have been battling with bloating and random acne all year and have tried so many different probiotics and nothing has shown results like this. I am excited to continue using these products and see further results! Thank you"

Taylor

BEAUTIFUL PRODUCT - GET IT NOW!

★★★★★

"I have been using the v oil for over a month now and I love it. Organic and all natural products so I have no qualms using it on every part of my body. I often use it as a perfume aswell as it just smells so amazing. Would recommend it to everyone!"
Laura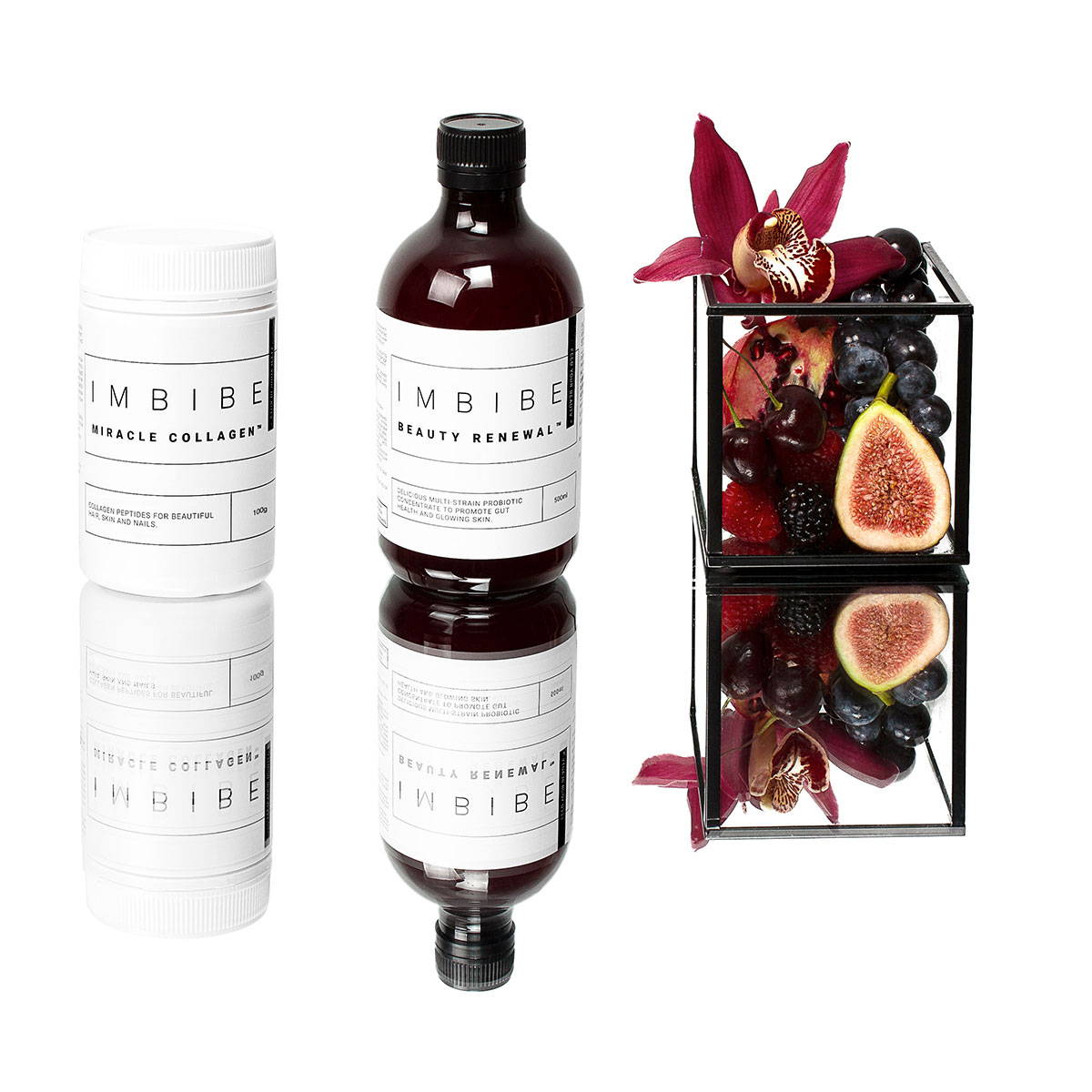 Imbibe was founded with one singular purpose: to offer Next Generation pure bio-active and bio-available products that are as beautiful as they are potent.
Our products blend the best cutting edge innovations in science and bio-active technology with delicious potent beauty boosting ingredients.
Our Ingestible Beauty range has been formulated with our team of microbiologists and scientists to deliver a range that works synergistically to plump and firm skin and nourish the health of your gut with every delicious sip.
Your ingestible skincare routine is as simple as adding 2 teaspoons of Miracle Collagen to your morning coffee and a tablespoon of Beauty Renewal to your water.
A new generation of personal care.
Awaken your pleasure,Your power,Your passion.
Organic plant and petal oils unite in one luxurious serum.
Celebrate your sacred.

V-Oil by Imbibe, is your new intimate skincare ritual to arouse your senses, ignite your passion and care for your yoni.
Abundant in toxin-free, organic potent plant oils and incredibly precious organic Rose Otto oil.
V-Oil provides suppleness where it counts, pleasure when it counts and a sacred understanding of the woman's natural landscape to provide pleasure, power and lasting, silken support day and night.
Elevate your connection to your creative centre.